Improving Diversity and Inclusion in Senior Leadership is a workshop to help recruit diverse senior management.
It provides a framework to understand that the underlying problem is systemic, the difficulties that accumulate over time for diverse candidates aiming for senior leadership positions, and it gives you practical advice and tips on things you can actually do right now to make a difference.
This should be read by CEOs and other C-Suite management.
In this resource you will learn:
1. microaggressions and the cumulative effects they have on careers (slide 27)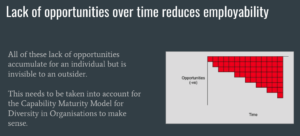 2. why being neutral isn't going to change anything (slide 30-31)
3. practical tips on how to improve recruitment and onboarding (slide 55-61)
4. how this has worked in previous situations (slides 63-65)
The resource can be accessed here:
Mosbergen, Rowland (2021): Improving Diversity and Inclusion in Senior Leadership: A workshop to help recruit diverse senior leaders. figshare. Presentation. https://doi.org/10.6084/m9.figshare.14315846