One of the big takeaways one of the participants in the "Workshop for Improving Diversity and Inclusion in Senior Leadership" was to be proactive in finding talent even before you are writing a position description.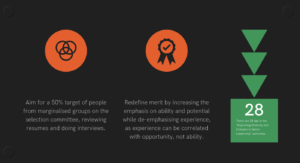 This is in the form of keeping an internal database of marginalised people that have impressed you along the way in your career as well as creating networks to organisations that build communities with marginalised people.
So when you are ready to get feedback from marginalised people about the language of your position description, or when you are ready to put your PD out into the world, you have people you can already send it to.
This makes a huge difference as the level of trust and confidence in that person about your organisation will be higher and your ability to attract talented, marginalised people will increase.