This is the recording of the panel discussion "Missing narratives in discussions around diversity and inclusion in research software engineering" that was part of SeptembRSE week.
I should point out that this is relevant to a broader audience in the tech field and beyond on how to understand systemic discrimination and why some perspectives are not "in the room" with you right now.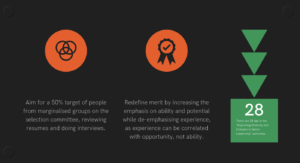 In the video, we talk about what organisations can do (see an updated slide below) and why even the little things help.
To cite the slides on this video, please use:
Mosbergen, Rowland; Sharan, Malvika (2021): SeptembRSE Missing narratives in discussions around diversity and inclusion in RSE. figshare. Presentation. https://doi.org/10.6084/m9.figshare.16635424