This post is now obsolete as the workshops are now available. You can see more below.
Workshop for Improving Diversity and Inclusion in Senior Leadership is now available
—————————————————————————–
I'm hoping to setup three free workshops soon for Improving Diversity and Inclusion in Senior Management. I'm hoping to host them in an Australian-friendly, European-friendly, and American-friendly timezones in the next 12 months.
This workshop focuses on key areas that allows you to understand what is really needed and provides practical tips on how to get started right now.
We would encourage people to apply who are unsure or concerned that they don't know enough – this is definitely for you!
I am happy to get your feedback of what you feel would work best for you:
a single group workshop with three sessions over 3 hours (intensive) or
split over 2 group workshops of 1.5 hours each (split)
The first session would be an introduction presentation.
The second session would be:
reviewing the recruitment process that the organisation of each individual has,
writing up improvements to that process, and
brainstorming how that process could be implemented within that organisation.
In the introduction presentation you will learn:
1. microaggressions and the cumulative effects they have on careers (slide 27)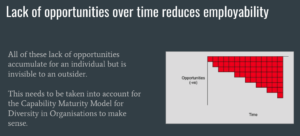 2. why being neutral isn't going to change anything (slide 30-31)
3. practical tips on how to improve recruitment and onboarding (slide 55-61)
4. how this has worked in previous situations (slides 63-65)
Expressions of Interest for this workshop can now be submitted here: https://tinyurl.com/EOI-diversity-rowland
This is a rolling expression of interest ie. it has no due date. As requests come in they will be reviewed and when there is enough interest people will be invited to a workshop.
You can see the full set of slides at:
Mosbergen, Rowland (2021): Improving Diversity and Inclusion in Senior Leadership: A workshop to help recruit diverse senior leaders. figshare. Presentation. https://doi.org/10.6084/m9.figshare.14315846.v7